Mouse Tail Coffee Stories is an up-and-coming coffeehouse chain based in London. Find out how designer Helen Sirp and the Mouse Tail team breathed life into the chain's new Canada Water location – and how Caesarstone's quartz surfaces were utilized to create bespoke café tables and a distinguished barista countertop.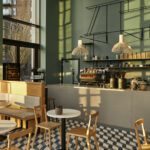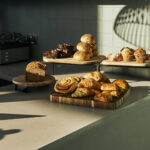 Designer: Helen Sirp, Photographer: Beth Evans
Up-and-coming artisan coffeehouse chain Mouse Tail Stories opened a brand-new branch in London's Canada Water neighborhood. The Mouse Tail team had ambitious plans for the new branch, which was conceived to operate as a café by day and a dinner spot after sundown.
The team chose designer Helen Sirp to design the new café space. Sirp immediately noticed the space's location by the water lake, and its potential to offer occupants beautiful sunset views. Inspired by the way natural lights penetrate the café during operating hours, Sirp decided to base her design on the journey of constant transformation. This theme also resonates with the Mouse Tail brand, which is constantly developing together with its loyal customer base.
As with every café, the design focused on the sitting area – especially the tables and chairs. The centerpiece is the café's workstation, with the barista countertop playing a large role. Taking these elements into consideration, Sirp envisioned a design that is inspired by the dynamics of natural light that penetrate through the café's windows, and the moving shadows that create constant motion throughout the space.
Familiar with Caesaerstone's portfolio for several years, Sirp decided to browse the new Caesarstone London Studio in search of potential solutions for the Mouse Tail project. Choosing wood for the furniture, Sirp wanted the café's tables to offer a gentle stone contrast. The light grey stone pattern of Misty Carrera caught her eye – and proved to be the perfect choice.
Another important design decision involved the barista countertop. Sirp decided to pursue a concrete aesthetic. Familiar with Caesarstone's trademark high durability standards and aesthetic values, Sirp discovered Caesarstone's Raw Concrete countertop and was instantly enamored with its performance capabilities and smooth matte finish.
The Canada Water branch is up and running, and the Mouse Tail team is very pleased with Caesarstone's seamless integration into its overall design scheme. It's not only the elegant beauty, but also the functionality that makes a difference – especially when it comes to the barista countertop's ability to withstand high-volume use, or stains that can be easily cleaned from the stone tables.
"The Nordic roots of the brand pretty much determined the choice of wood for all the furniture and so I wanted a cool stone to balance and oppose the warmth of oak in the space. That's how Misty Carrera came into the picture."
Helen Sirp
The Project's Shining Star
4004

Raw Concrete

Quartz

Softest grey splashes mixed with textured flecks of blacks and whites,
for the celebrated classic urban aesthetics.
Your project, on center stage.
If you've used our surfaces to design a space you're proud of, and want to display your project in our project gallery, please email all project images, details and credits to: [email protected]
You may also be interested in: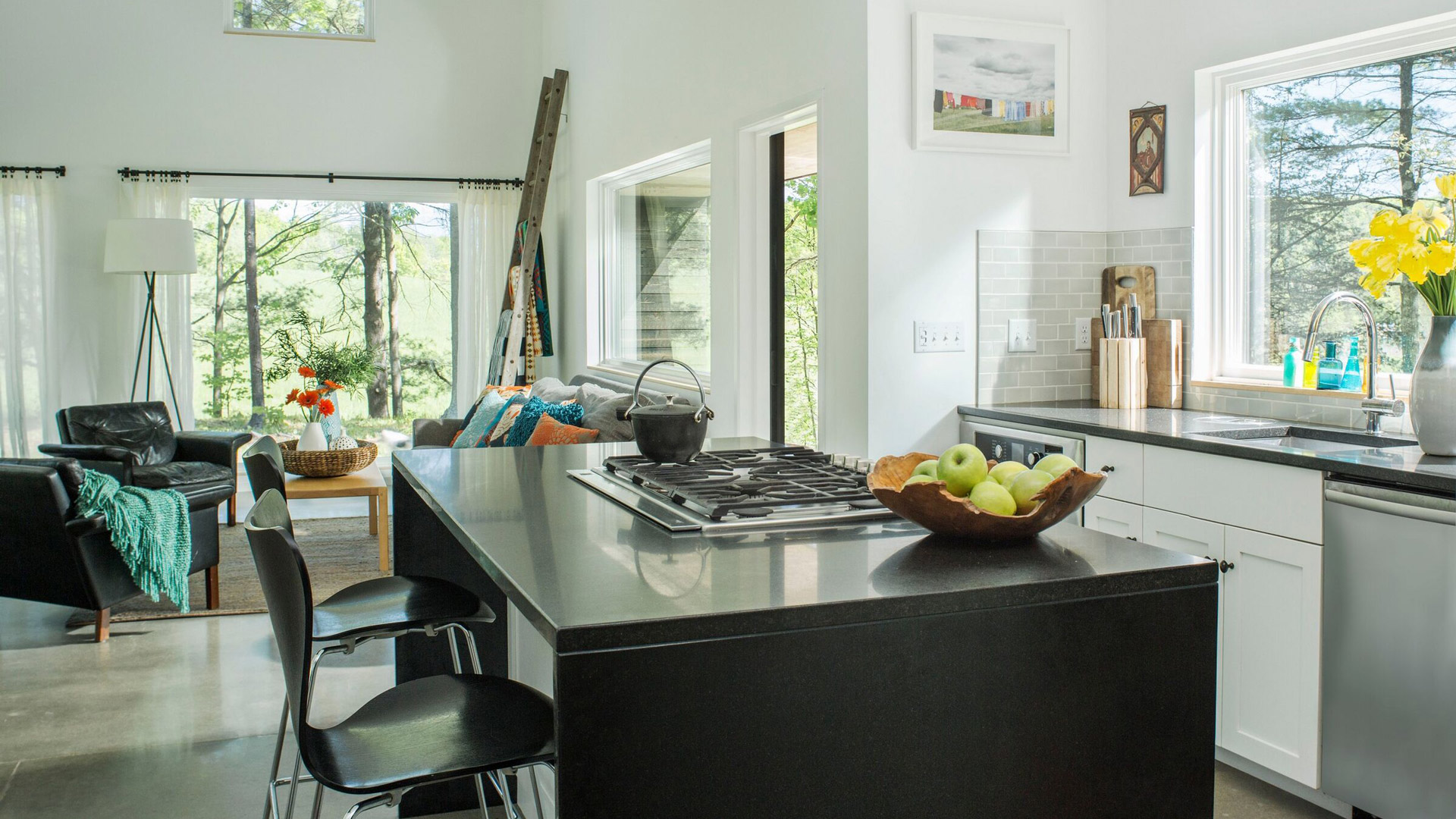 Architect: Elizabeth Herrmann, Designer: Elizabeth Herrmann, Photographer: Westphalen Photography
Architect: Guggenheim Studio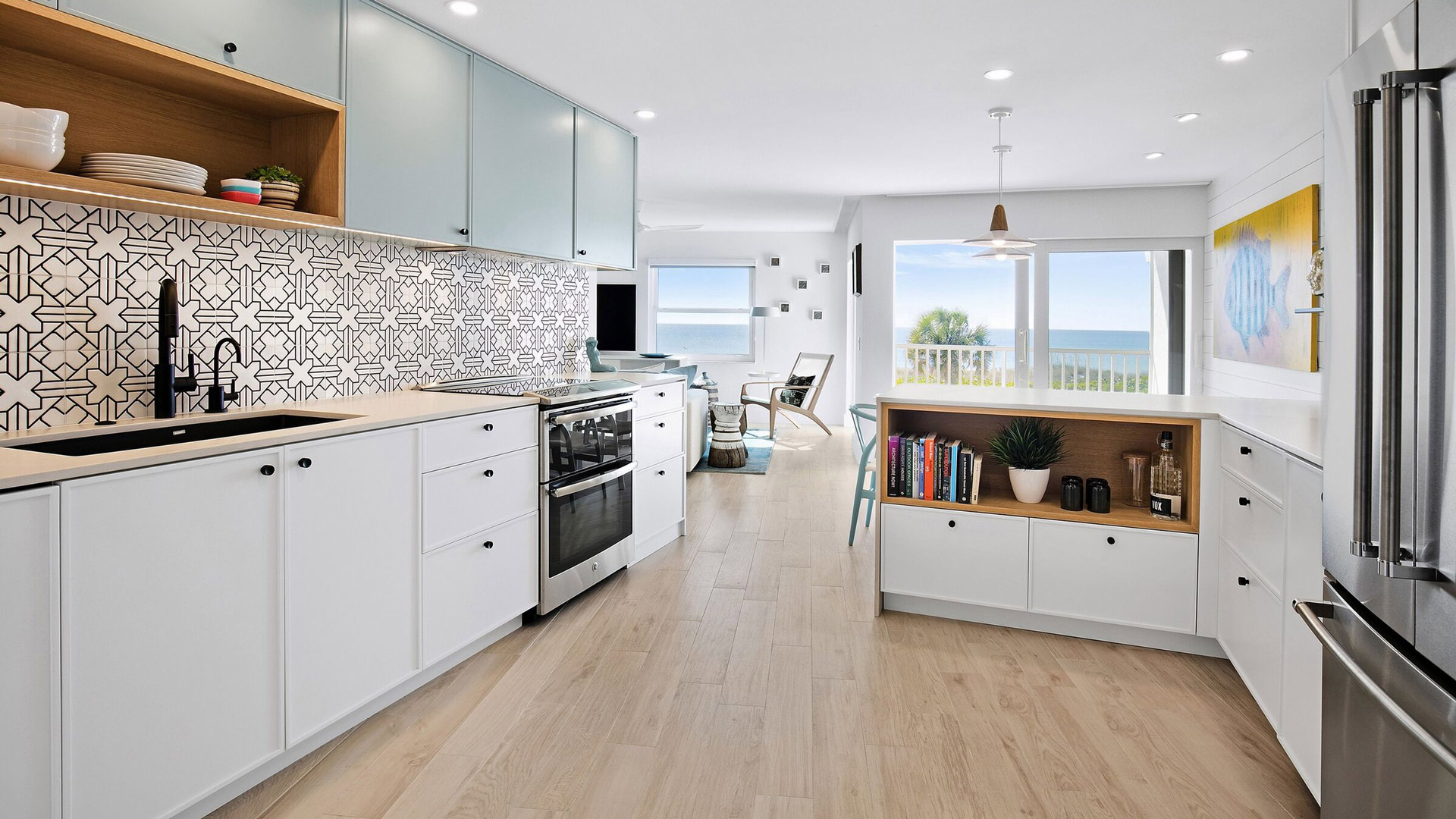 Architect: Leader Design Studio, Designer: SAWA Design Studio, Photographer: Ryan Gamma