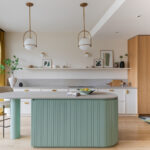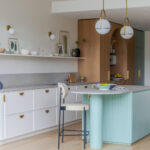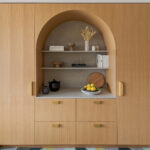 Architecture: Kasia Piorko | Kate Feather Kitchens
How do you create a space that blends impeccable beauty with state-of-the-art functionality? Read how Kate Feather Kitchens designed an art-deco kitchen – complete with Caesarstone's Topus Concrete surfaces – that addresses the needs of today's modern family.
A young family living in Notting Hill wanted to redesign their kitchen space to best suit their living needs. Focused on beauty and practicality, the family imagined a kitchen area that projects tidiness due partly to the effortless design and storage space unification.
Kasia Piorko, the founder of Kate Feather Kitchens, set out to design a kitchen with inspiring aesthetics that also makes life easy. Storage solutions were incorporated into the kitchen's island and two central cupboards, providing simple access to all appliances and kitchenware.
The island is one element that gives the kitchen its unique character. The island is the kitchen's aesthetic centerpiece, defined by soft curves and a striking color (Little Greene Aquamarine Deep 198). With its breakfast bar and twin stools, it is also the place where family members can gather to eat, talk, and even get some homework or office work done.
Another element that competes for the spotlight is the kitchen's grand arched oak unit. Effectively hiding the kitchen's integrated fridge and freezer, the unit infuses the kitchen with cozy warmth and an undeniable style. In addition, the unit has a space that prominently displays some of the family's personal items, dressing the kitchen with a comfortable and familiar ambiance.
The Project's Shining Star
4023

Topus Concrete

Quartz

Movement, opacity, and depth of delicate mineral formations over a warm greige base, flushed with rugged patinas and pastel-pink undertones.
Your project, on center stage.
If you've used our surfaces to design a space you're proud of, and want to display your project in our project gallery, please email all project images, details and credits to: [email protected]
Having worked with Caesarstone surfaces, Kasia cited quality, beauty, durability, and a vast surface range as her main reasons for incorporating Caesarstone into this project.
Caesarstone 4023 Topus Concrete was chosen for the kitchen's work surfaces and the island's worktop. Kasia and the client agreed that Topus Concrete's texture, tones, and pattern are perfect for the kitchen's color scheme, practical nature, and art-deco design. The urban-flare surface adds an industrial sophistication to the design while balancing its soft curves and white cabinet colors with an authentic rough finish.
Topus Concrete was also used for the oak unit's back and shelves. The color of the concrete and the oak's wooden warmth combine to form a delightful contrast that adds a spark to an already alluring kitchen space.
"Caesarstone has a vast range of surfaces to choose from, and I knew I needed something with a wow- factor for this project. Topus Concrete was the perfect solution for adding texture and muted, pastel colour to this kitchen."
Kasia Piorko
After its completion, this beautiful, art-deco-themed kitchen has become a trustworthy source of joy for the family. The elegantly designed kitchen space works wonders on the senses. It's a convenient space where family members can cook, eat, and converse. But it's more than that. The design is genuinely inspiring and uplifting – and Caesarstone's Topus Concrete surface plays a vital part in the unique narrative created by Kate Feather Kitchens.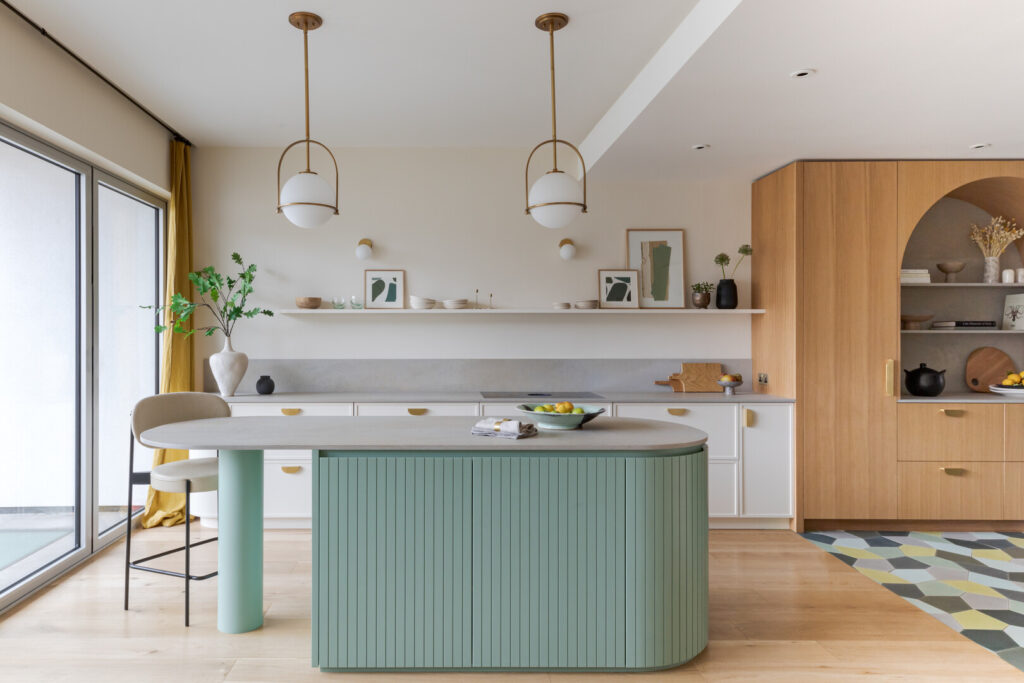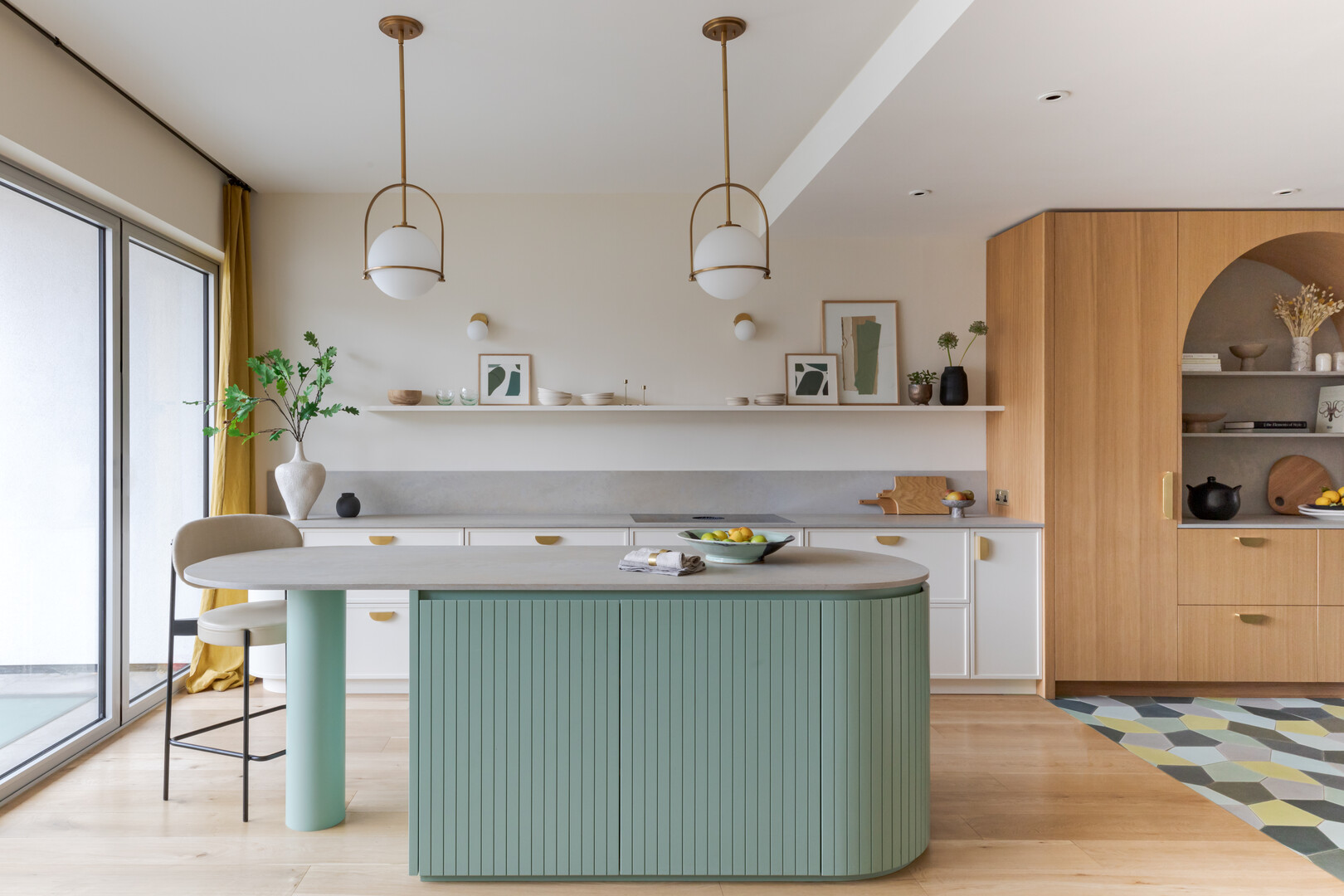 You may also be interested in: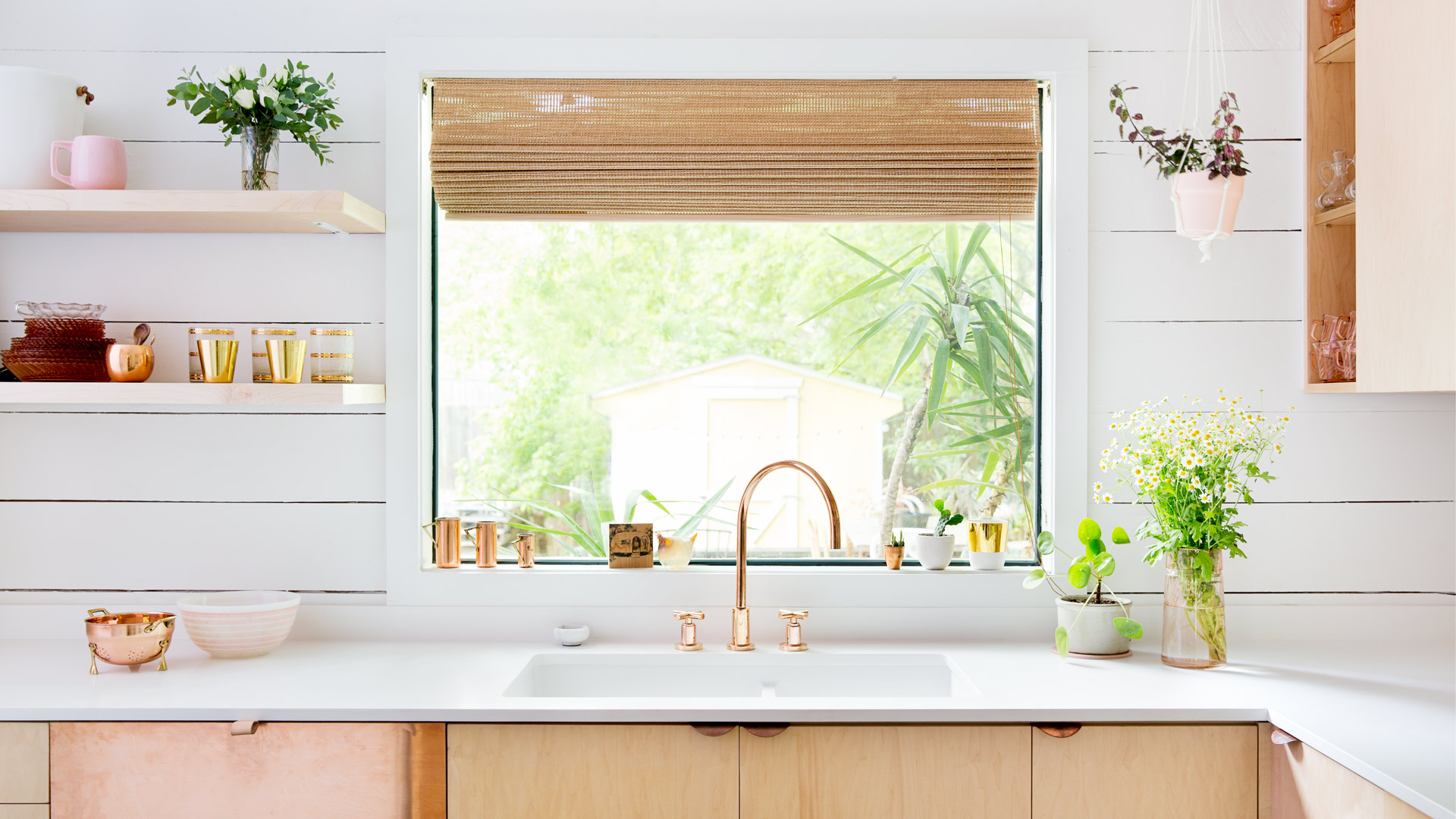 K&B: Cooper Pacific Kitchens